Created on November 28th 2008
A .450 Westley-Richards Monkey-Tail Breech-loading Percussion Carbine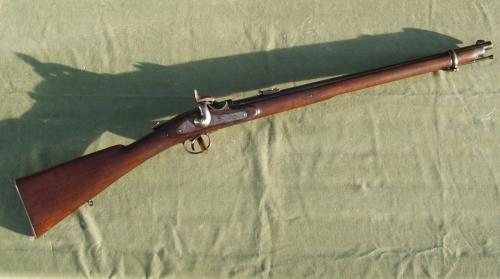 A good example of the military "Monkey Tail" so called because of the design of the breech opening system employed. Serial number 14890 on the left of the breech and behind the trigger guard. Clear Birmingham proof marks on the breech. Sighted 23″ round barrel held in place by a single barrel band and engraved along the top between the adjustable rear sight and breech with "WHITWORTH PATENT".  Bore condition is good with strong rifling but dark, with little or no pitting.
 The breech lever is stamped "MANUFACTURED BY WESTLEY RICHARDS " with the standard Triangle design also stamped on the lever. Flat lock stamped "WESTLEY RICHARDS" with its date "1875″ within the Triangle.  Action functions well. Plain full length walnut stock with steel end-cap retaining steel cleaning rod. Front sling swivle, rear sling swivle mount. Steel trigger guard with chequered trigger. Steel butt-plate with trap for cleaning rods.
 Condition is good for a military weapon, though there are signs of some usage on the woodwork around the breech lever which is not uncommon with this design. There is some colour remaining on the barrel and barrel band, but most of the rest has lost its colour due to normal use. An important chapter in the collection of early breech-loading military weapons.
£845.00
Comments Off