Created on September 21st 2011
A Fine example of the Type 44 Cavalry Carbine in 6.5mm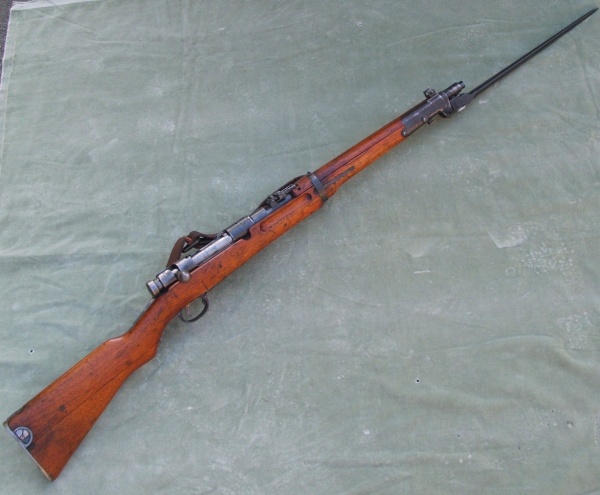 Serial number 00837 ( 1st series )  Koishikawa Arsenal (Tokyo) Japanese 6.5 caliber. Barrel length 18.1/2″. Overall length 38.1/4″.  Bayonet length approx' 14″.
Ground Chrysanthemum with type 44 under.  Matching bolt in the white with strong aged patina.  All over metal finish blued/black.  The rear RHS of the action exhibits some pitting and loss of finish as do the rear sights, graduated to 2000.
There is a fair amount of external pitting to the bayonet mounting/forend cap.  The bayonet itself shows little loss and retains a strong blue.  Also mounted on the nosecap is a large hook which one might take for a stacking hook but it also possible, by its size that it could have been used as a quillion, like the Japanese bayonets had.  The release and securring mechanisum for the folding bayonet is fully functioning and pleasing to operate.
Single barrel band with side mounted sling swivle, once again side mounted to two piece butt. Wide original looking sling with Japanese characters painted on.  Good stock in two pieces as standard with handguard.  Steel butt-plate with side mounted operating turnscrew to open cleaning rod storage trap. Mauser action with 5 shot internal magazine very pleaseing nitra blue to magazine floor plate.  Steel bolt with elaborate geometric pattern on rear of bolt.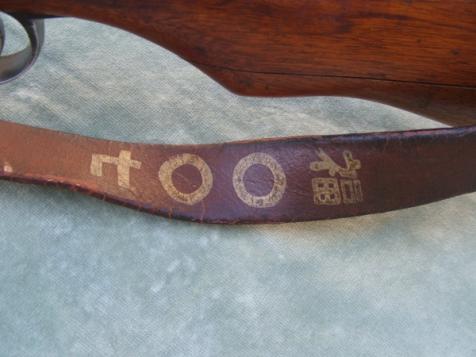 Very good bore with no pitting.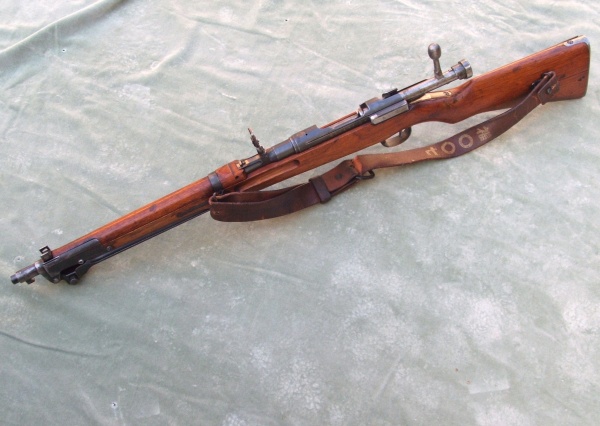 NOTE: This rifle needs to be proofed before it is released.
  £695.
Comments Off